MegaMind 1.0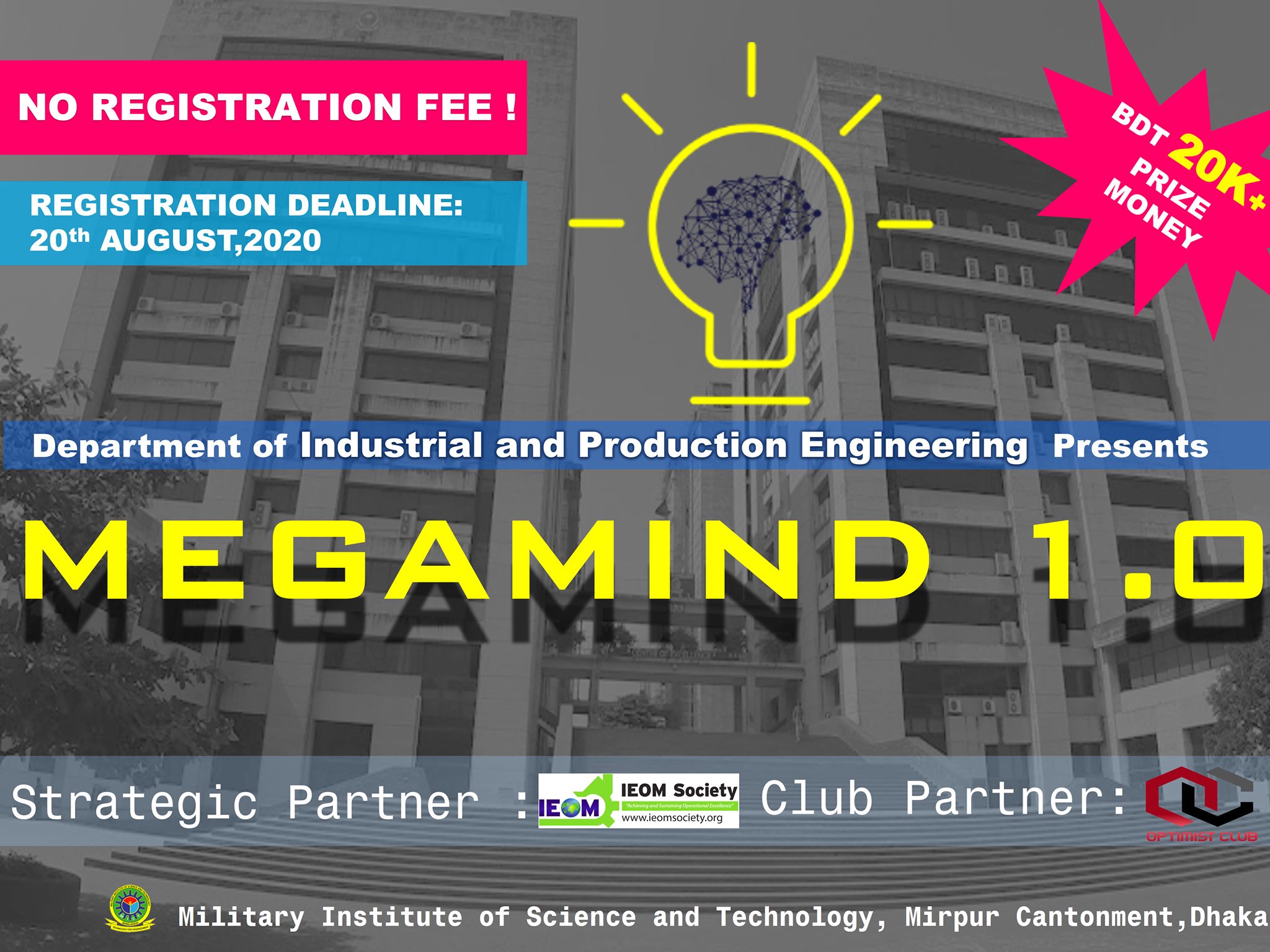 Hello Everyone !!!

Hope you all are doing great. Ready for a big SURPRISE????

We are overwhelmed to let you know that for the 1st time, "Department of Industrial & Production Engineering (IPE), MIST" is going to arrange a case competition titled as "MEGAMIND 1.0". The principal vision of this case competition is to nurture the innovative ideas of students as well as to exercise the practice of quality brainstorming.

Now, What's in it for the winners ?

We have a handsome amount of Prize Money worth 20k as well as the "Certificates of Achievements" for the winners. Also all the participants of the competition will be awarded with "Certificates of Participation".

And guess what is the best part about this competition? The registration for this competition is ABSOLUTELY FREE !!!!!!!

Let us have a view of the rules and regulations of participation:

• Students from any Department of MIST can participate in the competition.

• Every group must contain a minimum of 2 members and a maximum of 4 members.

• The competition will be held in 2 rounds. In the first round the competitors will share their idea and submit it in PDF format through our E-Mail. In the second round the shortlisted teams will have to present the case in front of the respected judges based on which the Winners will be decided.

• The participants will be given the case and the necessary instructions through E-mail after they register for the competition by clicking on the link below.

• Link for registration: https://forms.gle/43ASqk639znd4RYCA

• Registration will be closed on 11:59 PM, August-20, 2020

• Case will have to be submitted by 11:59 PM, August-27,2020

Our Strategic Partner in this competition will be "IEOM Society MIST Students Chapter" & our Club Partner will be "MIST Optimist Club"

So, Why waste your time by waiting? Grab your opportunity to win something great and register for the competition as soon as possible. We will be waiting for you.

Happy Brainstorming and Good Luck.

Note: As soon as you register for the competition, we will get send you the case within 48 Hours. So an early registration allows you more time for case preparation.

For any kinds of query please feel free to contact us in the following E-Mail
ipe.mist36@gmail.com

Thank You.