Research Consultancy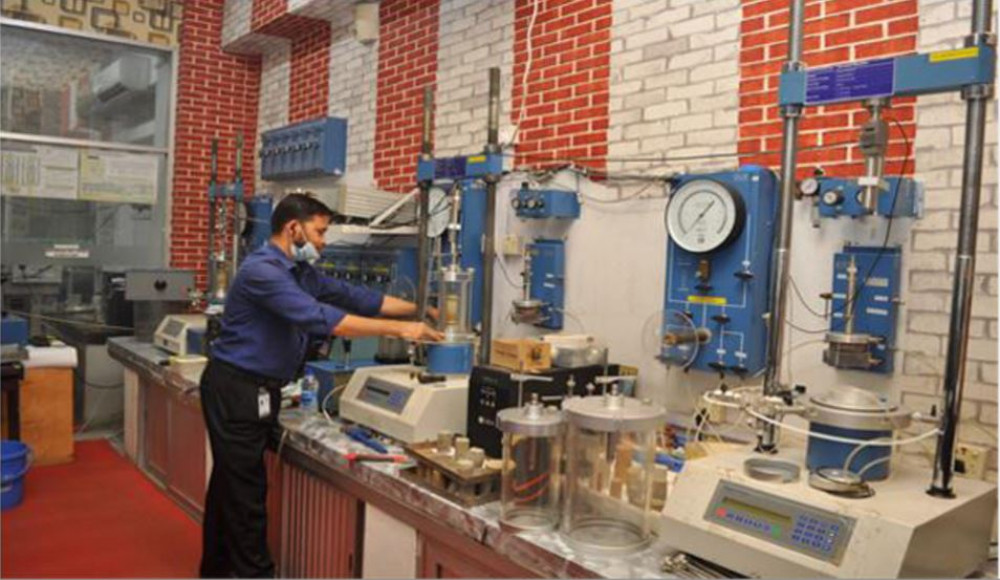 MIST with its esteemed profession provides research consultancy. MIST has a dedicated 'Centre for Advisory and Testing Services (CATS)'.
The CATS of MIST is established with the purpose of following objectives:
a. To stimulate engineering research in the MIST.
b. To develop close relations with other universities, institutes, and industries within the country.
c. To serve the departments of the Government in the field of Engineering Research and Testing
d. To put to profitable use of the equipment available in the MIST undertaking extensive research.
e. To provide a basis for the future graduate study programs at MIST.
f. To undertake an elaborate program of research on matters of national interest, for which no sponsor is available
g. To enhance the academic and administrative capabilities of faculties and staff officers so that they provide better services and do a stimulating job of teaching.
Department wise CATS
CATS - CE
Transportation Laboratory
Aggregates
| | |
| --- | --- |
| Ser | Name of Tests |
| 1. | Sieve Analysis (FA) |
| 2. | Material Finer than #200 Sieve |
| 3. | Sieve Analysis (CA) /Gradation / FM (CA) |
| 4. | Sieve Analysis (CA) /Gradation (base/sub base) |
| 5. | Sieve Analysis /Gradation / FM (CA) (ballast) |
| 6. | Sieve Analysis /Gradation / FM (CA) (ballast) /Specified Sieve Size |
| 7. | Aggregate Crushing Value (ACV) / Compressive Strength |
| 8. | Aggregate Impact Value (AIV) |
| 9. | Ten Percent Fine Value (TFV) |
| 10. | Angularity Number (including sp. gr.) |
| 11. | Elongation Index (EI) / Shape Test |
| 12. | Flakiness Index (FI) |
| 13. | L.A Abrasion of CA |
| 14. | L.A Abrasion of Ballast |
| 15. | Unit Weight of Aggregate (CA) |
| 16. | Unit Weight of Aggregate (FA) |
| 17. | Soundness of Na2SO4 |
| 18. | Soundness of Mg2SO4 |
| 19. | Absorption and Specific Gravity/Density (for Ballast) |
| 20. | Clay Lump & Friable Particles |
| 21. | Moisture Content |
| 22. | Percentage of Uncrushed Particle |
| 23. | Mica Content of Fine Sand using Microscope |
| 24. | Effect of Organic Impurities |
| 25. | Organic Impurities/Salt Content/Sulphate Content |
| 26. | Bulking of Sand |
| 27. | Void Ratio/Porosity/Mohr. Hardness |
| 28. | CBR of Base or Subbase Material |
| 29. | Standard Proctor Test of Aggregate |
| 30. | Modified Proctor or Vibrating Hammer |
| 31. | Mica Content of Fine Sand /CA by Visual Observation |
| 32. | Alkali-Silica Reactivity for Stone/Sand |
Bitumen
| | |
| --- | --- |
| Ser | Name of Tests |
| 1. | Specific Gravity/Density |
| 2. | Penetration / Grading |
| 3. | Loss-on-Heating |
| 4. | Ductility |
| 5. | Softening Point (R&B) |
| 6. | Flash and Fire Point of Bitumen |
| 7. | Naphta Xylene Equivalent |
| 8. | Solubility |
| 9. | Float Test |
| 10. | Foaming Test |
| 11. | Spot Test |
| 12. | Viscosity, Saybolt Furol (S.F) |
| 13. | Viscosity (Kinematic) |
| 14. | Viscosity (Absolute) |
| 15. | Ash Content |
| 16. | Any Test on Residue from Thin Film Oven Test |
| 17. | |
| 18. | Coating & Stripping Test with or without Anti Stripping Agent |
| 19. | Asphalt Concrete Mix Design (Marshall) |
| 20. | Particle Charge Test on Bitumen Emulsion |
| 21. | Any Test on Residue from Loss-on-Heating Test / TFOT (if TFOT/LOH included separately) |
| 22. | Any Test on Residue from Loss on-Heating Test / TFOT (if TFOT/LOH not included separately |
Pavement
| | |
| --- | --- |
| Ser | Name of Tests |
| 1. | Bitumen Content |
| 2. | Water Content |
| 3. | Theoretical Max Sp. Gr |
| 4. | Density |
| 5. | Marshall Stability and Flow Test |
| 6. | In-situ Per Core Cutting |
| 7. | Job Mix Formula & Marshall Test |
| 8. | TSR (Tensile Strength Ratio) Test |
Concrete Laboratory
Bricks (Bricks Needed for ASTM = 5 Nos, BS = 10 Nos)
| | |
| --- | --- |
| Ser | Name of Tests |
| 1. | Absorption (ASTM / BS) |
| 2. | Crushing Strength (ASTM / BS) |
| 3. | Size & Shape (ASTM / BS) |
| 4. | Unit Weight (ASTM / BS) |
| 5. | Efflorescence [needed 20 bricks] |
| 6. | Initial Rate of Absorption/Suction for Bricks |
Hollow /Special Brick Block
| | |
| --- | --- |
| Ser | Name of Tests |
| 1. | Compressive Strength of Hollow Bricks, Paving/Concrete Blocks etc |
| 2. | Compressive Strength of Road Kerb Stone |
| 3. | Absorption |
| 4. | Unit weight |
| 5. | Compressive Strength of Hollow Bricks, Paving/Concrete Blocks etc (incl unit wt) |
R.C.C. Pipes & Manhole Covers
| | |
| --- | --- |
| Ser | Name of Tests |
| 1. | Pipes (dia up to 600 mm) |
| 2. | Pipes (dia above 600 mm and up to 900 mm) |
| 3. | Pipes (dia above 900 mm and up to 1200 mm) |
| 4. | Pipes (dia above 1200 mm and up to 1524 mm) |
| 5. | In-situ Pipe Testing |
| 6. | Loads & Wt Test on Manhole Covers (< 18 inch or 450 mm dia) |
| 7. | Loads & Wt Test on Manhole Covers (>18 inch or 450 mm dia) |
Cement Concrete
| | |
| --- | --- |
| Ser | Name of Tests |
| 1. | Concrete Cylinders (100 x 200 mm), for a set of 3 Nos |
| 2. | Concrete Cylinders (150 x 300 mm), for a set of 3 Nos |
| 3. | Cubes (< 200 mm), for a set of 3 Nos |
| 4. | Cubes (200 mm – 300 mm), for a set of 3 Nos |
| 5. | Cubes (> 300 mm), Each Core Cutting & Testing (250/- for fuel) |
| 6. | Concrete Spun, for a set of 3 Nos. |
| 7. | Concrete Beam in Flexure, for a set of # Nos |
| 8. | Concrete Slab in Flexure, for a set of 3 Nos |
| 9. | Test on Admixture (Mineral) for Cement/Concrete |
Concrete Mix Design
| | |
| --- | --- |
| Ser | Criteria of Mix Design |
| 1. | Concrete Mix Design Without Admixture (up to 25 MPa) |
| 2. | Concrete Mix Design Using Admixture (up to 25 MPa) |
| 3. | Concrete Mix Design Without Admixture (> 25 MPa) |
| 4. | Concrete Mix Design Using Admixture (> 25 MPa) |
Destructive & NDT Test
| | |
| --- | --- |
| Ser | Name of Tests |
| 1. | In-Situ per Core Cutting & Testing (without scanning) (LC 200/-) |
| 2. | In-Situ per Core Cutting & Testing (with quick scanning) (LC 300/-) |
| 3. | In-Situ Hammer Test - per Spot / Location (min. 3 Tests) |
| 4. | In-Situ Scanning Test - per Spot / Location (for 2 scans) |
| 5. | In-Lab Block/Kerb per Core Cutting & Testing |
| 6. | In-Lab Supplied Core Testing (per Core) |
| 7. | In – Situ Winsor Pin Test – per Spot / Location (min. for 3 Tests) |
Cement
| | |
| --- | --- |
| Ser | Name of Tests |
| 1. | Compressive Strength of Cement Mortar 3, 7, 28 days (Tk 600/- for Ottawa Sand) |
| 2. | Normal Consistency and Setting Time |
| 3. | Fineness |
| 4. | Setting Time (Only) |
| 5. | Normal Consistency(Only) |
| 6. | Density/Sp Gravity |
| 7. | Weight of Cement Bag |
Cement (EN Standard)
| | |
| --- | --- |
| Ser | Name of Tests |
| 1. | Compressive Strength 2 & 28 days |
| 2. | Compressive Strength 2, 7 & 28 days |
Tiles (Set of 3 Nos)
| | |
| --- | --- |
| Ser | Name of Tests |
| 1. | Size & Shape |
| 2. | Absorption (with flexural needs additional 5nos.) |
| 3. | Flexural/Modulus of Rupture |
SM Laboratory
Rod (Set of 03 Nos)
| | |
| --- | --- |
| Ser | Name of Tests |
| 1. | Tension Test including Wt. and Elongation (up to 25 mm) |
| 2. | Tension Test including Wt. and Elongation (above 25 mm and up to 32 mm) |
| 3. | Tension Test including Wt. and Elongation (above 32 mm and up to 50 mm) (LC 4000/-) |
| 4. | Tension Test Including Wt. and Elongation (above 50 mm) (LC 5000/-) |
| 5. | Bend Test (up to 25 mm) |
| 6. | Bend Test (above 25 mm) |
| 7. | Rebend Test (up to 25 mm) |
| 8. | Rebend Test (above 25 mm) |
| 9. | Deformation Measurement |
| 10. | Elongation at 5D as per ISO 6935 – 2 per Set |
| 11. | Stress-Strain Curves (Modulus of Elasticity) |
| 12. | Shear Test for Rod (LC 1200/-) |
| 13. | Shaft Rod < 30 mm |
| 14. | Shaft Rod > 30 mm & < 40 mm (LC 3000/-) |
| 15. | Shaft Rod > 40 mm & < 50 mm (LC 3000/-) |
| 16. | Shaft Rod > 50 mm (LC 3500/-) |
| 17. | H.T Wire, Tension Test; for a set of 3 Nos |
| 18. | Strand/Cable, Tension Test for a set of 3 Nos |
| 19. | Coupler up to 25 mm, for a set of 1 No |
| 20. | Coupler (above 25 mm & up to 32 mm), for a set of 1 No |
| 21. | Coupler (above 32 mm),for a set of 1 No |
Rod (Miscellaneous)
| | |
| --- | --- |
| Ser | Name of Tests |
| 1. | Scaffolding/Steel Props, Jog (for a set of 1 No) |
| 2. | Steel Sleeper (for a set of 1 No) (LC 700/-) |
| 3. | Transverse Breaking Load of Rail (for a set of 1 No) |
| 4. | Fibre Glass Stainers/Pipes, Tension Test (for a set of 3 Nos) |
| 5. | Fibre Glass Compression Test (for a set of 1No) |
| 6. | Spring Test (for a set of 1No) |
| 7. | Aluminum Column Compression Test (LC 1,500/-) |
| 8. | Dog Spike |
| 9. | Bond/Weld Test or Rop Lapping Test |
| 10. | MS Box Welding Compressive Strength (LC 2,500/-) |
| 11. | Butt Welded Joint |
| 12. | Pre-stressing 12 Wire Anchorage Test (for Retest, Test Fee is 33%) |
| 13. | Pre-stressing 19 Wire Anchorage Test (for Retest, Test Fee is 33%) |
Bolt, Angle & Plate
| | |
| --- | --- |
| Ser | Name of Tests |
| 1. | Anchor Bolt/ Hooks Tension Test (up to 25 mm) (LC. 1,000/-) (if required) |
| 2. | Anchor Bolt/ Hooks Tension Test (above 25 mm) (LC. 1,000/-) (if required) |
| 3. | Bolt Tension Test up to 25 mm |
| 4. | Bolt Tension Test above 25 mm (LC. 1,000/-) |
| 5. | Angle/Plate/Sheet Pile/Joist Tension Test up to 16mm (LC. 1,000/-) |
| 6. | Angle/Plate/Sheet Pile/Joist Tension Test above 16mm to 30 mm (LC. 1,500/-) |
| 7. | Angle/Plate/Sheet Pile/Joist Tension Test up to 30 mm (LC. 2,000/-) |
| 8. | Sheet Pile/Joist Wt. per Meter & Thickness (L C 1,000/-) |
| 9. | Sheet Pile/Joist Section Modulus/Moment of Inertia (LC. 1,500/-) |
| 10. | Hardness Test (Rockwell) (L C. 500/-) |
| 11. | Impact Test, for a Set of 3 Nos. (LC 1,000/-) |
Timber Tests
| | |
| --- | --- |
| Ser | Name of Tests |
| 1. | Timber Compression Test for 1 Sample (L.C. 1,000/-) |
| 2. | Timber Flexure Test for 1 Sample (L.C. 1,200/-) |
| 3. | Moisture Content, for 1 Sample (L.C. 300/-) |
| 4. | Hardness, for 1 Sample (L.C.1,000/-) |
| 5. | Density (L.C. 300/-) |
Rubber/Plastic/PVC Material
| | |
| --- | --- |
| Ser | Name of Tests |
| 1. | Tension for a Set of 5 Samples |
| 2. | Hardness for 1 Sample |
| 3. | Flexural, for a Set of 5 Samples |
| 4. | Compression for 1 Sample |
| 5. | Compression Stiffness for 1 Sample |
| 6. | Water Stopper-Tension, Dim, Elongation |
| 7. | Water Stopper-Sp. Gr./Hardness |
Elastomeric Bearings / CFRP & GFRP Wraps / Epoxy Resins, Primers & Epoxy Based
Mortars
Ser

Name of Tests

1.

CFRP Strip/CFRP Wraps - Tensile Strength, Modulus of Elasticity, Elongation - ASTM D3039

2.

Epoxy Resin, Primers and Epoxy based Mortars -Compression Yield Strength and Modulus

@14days - ASTM D695:08

3.

Epoxy Resin, Primers and Epoxy based Mortars - Tensile Strength & Elongation at Break

@14days - ASTM D638:08

4.

Epoxy Resin, Primers and Epoxy based Mortars -Absorption/Viscosity - ASTM D570:98 (05)

5.

Epoxy Resin, Primers and Epoxy based Mortars - Bond Strength @ 14 days - ASTM C882/C882M:05e1

6.

Rubber Bearing Pad - Dimensional Variations Check - ASTM D4014; Clause 7

7.

Rubber Bearing Pad - Bearing Compression Test for Compression Stiffness and Video

Extensometer for Laminate Deformations Check - ASTM D4014; Clause9

8.

Rubber Bearing Pad - Short Term Compression Proof Load Test to 150% of Design Load and Visual Inspection Under Load Using Video Extensometer - AASHTO 2002, 17th Edition,

Clause 18.7.2.5,18.7.4.5.6

9.

Rubber Bearing Pad - Long Term Compression Proof Load Test to 150% of Design Load and Visual Inspection Under Load Using Video Extensometer - AASHTO 2002, 17th Edition, Clause 18.7.2.6,18.7.4.5.7

10.

Durometer Hardness Test (Shore A) - ASTM D2240/Dimension

11.

Tensile Strength and Ultimate Elongation - ASTM D412 (Peel Strength test/Determining

Adhesion on Rigid Substrates)

12.

Determination of Shear Modulus - ASTM D4014/Test for Compression Set - ASTM D395

13.

Heat Persistence Test to Change in Tensile Strength and Ultimate Elongation - ASTM D573 & ASTM D2240/Ash Content

14.

Heat Persistence Test to Change in Tensile Strength and Ultimate Elongation - ASTM D573 & ASTM D412
GRP Board Sandwich Panel
| | |
| --- | --- |
| Ser | Name of Tests |
| 1. | Tensile Strength (5 Nos. from each Sample) |
| 2. | Tensile Modulus (5 Nos. from each Sample) |
| 3. | Flexural Strength (127 mm x 12.7 mm x 3.2 mm; 5 Nos.) |
| 4. | Flexural Modulus (100 mm x 10 mm x 4 mm; 5 Nos.) |
| 5. | Impact Strength (5 Nos. from each Sample) |
| 6. | Water Absorption (76.2 mm x 25.4 mm x 6 mm; 3 Nos.) |
Non-Asbestos Fiber - Cement Bond
Ser

Name of Tests

1.

Modulus of Rupture (6" x 12")

2 Nos. Parallel to Fibre Lay from Same Sheet

2 Nos. Perpendicular to Fibre Lay from Same Sheet

2.

Modulus of Elasticity (6" x 12") 2 Nos. Parallel to Fibre Lay from Same Sheet

2 Nos. Perpendicular to Fibre Lay from Same Sheet

3.

Density (from MOR test)

4.

Size & Shape (5Nos.)

5.

Water Absorption (4" x 4"; 3 Nos. from per sheet)

6.

Moisture Content (from MOR test)

7.

Water tightness (24" x 20"; 3 Nos. one from each sheet)

8.

pH value (from MOR test)

9.

Heat & Rain Wall Structures (5' x 4'; 2 Nos; one from each sheet)
Geotechnical Lab
Soil Boring (Including Relevant Tests, Analysis & Report)
Ser

Name of Tests

1.

Per Borehole:

a. Within Dhaka City-depth up to 20m b. Within Dhaka City-depth up to 25m c. Within Dhaka City -depth up to 30m

d. Within Dhaka City – depth more than 30

e. Outside Dhaka City
Soil Tests
Physical & Index Properties
| | |
| --- | --- |
| Ser | Name of Tests |
| 1. | Specific Gravity (Sp. Gr.) |
| 2. | Unit Weight (Wet and Dry) |
| 3. | Void Ratio (Sp. Gr. & Unit Weight) |
| 4. | Moisture Content |
| 5. | Linear Shrinkage |
| 6. | Shrinkage Limit |
| 7. | Liquid Limit and Plastic Limit |
| 8. | Grain Size Analysis by Wash Sieving |
| 9. | Hydrometer, Wash Sieving & Specific Gravity |
| 10. | Organic Matter Content by Loss on Ignition |
| 11. | Sand Equivalent Test |
Permeability & Seepage Characteristics
| | |
| --- | --- |
| Ser | Name of Tests |
| 1. | Permeability of Cohesive Soil by 1 Dimensional Consolidation |
| 2. | Permeability of Cohesionless Soil (Falling Head) |
| 3. | Permeability of Cohesionless Soil (Constant Head) |
Compaction & Density Tests
| | |
| --- | --- |
| Ser | Name of Tests |
| 1. | Max. and Min Density of Cohesionless Soil |
| 2. | Standard Proctor Compaction Test |
| 3. | Modified Proctor Test |
Consolidation & Swelling Characteristics
| | |
| --- | --- |
| Ser | Name of Tests |
| 1. | One Dimensional Consolidation Cc, Cr, Cv |
| 2. | One Dimensional Consolidation (only e- log p) |
| 3. | One Dimensional Consolidation (Cc, Cr, Cv) and Permeability (e-log k) |
| 4. | Swelling Pressure |
| 5. | Swelling Potential |
Strength & Deformation Characteristics
| | |
| --- | --- |
| Ser | Name of Tests |
| 1. | Unconfined Compression Test |
| 2. | Laboratory California Bearing Ratio (CBR) of Soils |
Direct Shear Tests
| | |
| --- | --- |
| Ser | Name of Tests |
| 1. | Consolidated Drained Test for Sand (including specific gravity) |
| 2. | Consolidated Drained Test for Clay (including specific gravity) |
Triaxial Shear Tests
| | |
| --- | --- |
| Ser | Name of Tests |
| 1. | Consolidated Drained Compression (including specific gravity) |
| 2. | Consolidated Undrained Compression Test with Pore Pressure (including specific gravity) |
| 3. | Consolidated Undrained Compression Test without Pore Pressure (including specific gravity) |
| 4. | Unconsolidated Undrained Compression Test without Pore Pressure (including specific gravity) |
| 5. | Consolidated Undrained Extension Test without Pore Pressure (including specific gravity) |
| 6. | Cyclic Triaxial Test (including specific gravity) |
Geotechnical Tests (Field)
| | |
| --- | --- |
| Ser | Name of Tests |
| 1. | Field CBR per Location with Field Density (in addition proctor/max-min density and sieve/hydrometer tests are needed to be done) |
| 2. | Field Density per Spot with Field Density (in addition proctor/max-min density and sieve/Hydrometer tests are needed to be done) |
| 3. | Non-Repetitive Plate Load Test per Location |
| 4. | Pile Integrity Test per Pile |
| 5. | Axial Pile Load Test Supervision and Report per pile |
Geotextile/Geo Bags (Set of 3 Samples)
| | |
| --- | --- |
| Ser | Name of Tests |
| 1. | Apparent/Effective Opening Size (AOS/EOS)/Pore Size (3 specimens) |
| 2. | Burst Index |
| 3. | Index Puncture Resistance or CBR Puncture (10 specimens) |
| 4. | Cone Penetration |
| 5. | Grab Tensile Strength & Elongation (5 specimens x 2 direction) |
| 6. | Horizontal Permeability under 2 kN/m2 Pressure |
| 7. | Seam Strength (6 specimens) |
| 8. | Thickness (10 specimens) |
| 9. | Trapezoidal Tear Strength |
| 10. | Unit Weight/ Mass (3 Specimens) |
| 11. | Vertical Permeability under 2kN/m2 and 200 kN/m2 Pressure |
| 12. | Vertical Permeability under 2kN/m2 Pressure |
| 13. | Water Permeability by Permittivity |
| 14. | Strip/Wide Width Tensile Strength & Elongation |
| 15. | Grab Tensile Test (Long & X-dir & top & bottom seam) of Geo Bag |
| 16. | Permeability Head Loss of 50 mm |
Environmental Lab
Environmental Quality of Soil, Sludge and Solids
| | |
| --- | --- |
| Ser | Name of Tests |
| 1. | pH |
| 2. | Electrical Conductivity |
| 3. | Organic Matter (Dry combustion Method) |
| 4. | Water Soluble Cl/PO4/SO4 (each) |
Test on Water (Routine Drinking Water Parameters (Package)
| | |
| --- | --- |
| Ser | Name of Tests |
| 1. | pH |
| 2. | Color (True or Apparent) |
| 3. | Turbidity |
| 4. | Total Hardness |
| 5. | Chloride (Cl) |
| 6. | Total Dissolved Solids (TDS) |
| 7. | Manganese (Mn) |
| 8. | Arsenic (As) |
| 9. | Total Iron (Fe) |
| 10. | Total Coliform (TC) /Thermotolerent Coliform (TTC) |
| 11. | Fecal Coliform (FC) |
Metal Analysis of Soil, Sludge & Solids following Total Extraction and / or TCLP
Ser

Name of Tests

1.

Total Extraction Charges (each sample)

2.

Extractant Analysis Charge

Ca/Cd/Co/Cr/Fe/Mg/Mn/Ni/Pb/Zn-using FLAAS (each)

Arsenic (As)-using GFAAS

Mercury (Hg) - Cold Vapor Method

Selenium (Se) - using GFAAS/Ba

Na or K (each) - using FLAAS

3.

Toxic Characteristics Leaching Procedure (TCLP) Charge

4.

Extractant Analysis Charge

Ca/Cd/Co/Cr/Fe/Mg/Mn/Ni/Pb/Zn-using FLAAS (each)

Arsenic (As) - using GFAAS

Mercury (Hg) - Cold Vapor Method

Selenium (Se) - using GFAAS/Ba

Na or K (each) - using FLAAS
Ambient Air Quality Monitoring
| | |
| --- | --- |
| Ser | Name of Tests |
| 1. | SPM |
| 2. | PM10 |
| 3. | PM2.5 |
Noise Monitoring
| | |
| --- | --- |
| Ser | Name of Tests |
| 1. | Minimum Fee (per 5 locations in one entity) |
| 2. | Calibration of Noise Meter (per equipment) |
Sample Collection Charges (Depending on Area to be Sampled)
| | |
| --- | --- |
| Ser | Name of Tests |
| 1. | Sampling for Bacteriological Analysis |
| 2. | Sampling for Physical and Chemical Analysis |
Tubewell Design (Charge Depends on Client's Requirement)
| | |
| --- | --- |
| Ser | Name of Tests |
| 1. | Tubewell Design (`depth up to 600ft) including 8 nos sand test |
| 2. | Tubewell Design (depth above 600ft) including 11 nos sand test |
Miscellaneous Water Quality Parameters
| | |
| --- | --- |
| Ser | Name of Tests |
| 1. | pH |
| 2. | Color (True or Apparent) |
| 3. | Color Scanning at Specific Wavelength/UV-VIS Range |
| 4. | Turbidity |
| 5. | Carbon-di-Oxide (CO2)/Acidity |
| 6. | P-Alkalinity / M-Alkalinity / T-Alkalinity |
| 7. | Carbonate(CO3) or Bicarbonate (HCO3-) + pH |
| 8. | Total Hardness |
| 9. | Ca-Hardness |
| 10. | Mg-Hardness |
| 11. | Chloride (Cl) |
| 12. | Fluoride (F) |
| 13. | Ammonia-nitrogen (NH3-N) |
| 14. | Nitrate-Nitrogen(NO3-N) |
| 15. | Nitrite-Nitrogen(NO2-N) |
| 16. | Total Nitrogen (TN) |
| 17. | Total Kjeldahl Nitrogen (TKN)/ Organic Nitrogen |
| 18. | Chlorine Content-Total Cl2 |
| 19. | Chlorine Content-Free Cl2 |
| 20. | Iodine Content |
| 21. | Bromine Content |
| 22. | Break Point Chlorination |
| 23. | Total Solids (TS) |
| 24. | Total Suspended Solids (TSS)/Insoluble Solids/ (TSS+TDS+TS) |
| 25. | Total Dissolved Solids (TDS) |
| 26. | Silica Content (SiO2) |
| 27. | Electrical Conductivity (EC) |
| 28. | Total Phosphorous (TP) |
| 29. | Orthophosphate (PO4) |
| 30. | Hydrogen Sulphide (H2S)/Odor |
| 31. | Sulphate (SO4) |
| 32. | Biochemical Oxygen Demand (BOD)-5day |
| 33. | Chemical Oxygen Demand (COD) |
| 34. | KMnO4 value |
| 35. | Dissolved Oxygen (DO) |
| 36. | Boron (B) |
| 37. | Manganese (Mn):UV-VIS |
| 38. | Aluminum (Al)-using GFAAS |
| 39. | Silver (Ag) |
| 40. | Arsenic (As)-using GFAAS |
| 41. | Selenium (Se)-using GFAAS/Ba |
| 42. | Ca/Cd/Co/Cr/Fe/Mg/Mn/Ni/Pb/Zn-using FLAAS+ (each) |
| 43. | Na or K (each)-using FLAAS |
| 44. | Nickel (Ni) / Cobalt (each) |
| 45. | Mercury (Hg)-Cold Vapor Method (min. 30 days required) |
| 46. | Cyanide (Cn) |
| 47. | Ferrous Iron (Fe2+)/ ferric Iron (Fe3+) |
| 48. | Total Organic Carbon (TOC) |
| 49. | Dissolved Organic Carbon (DOC) |
| 50. | Silt Density Index (SDI) |
| 51. | Sodium Absorption Ratio (SAR) |
| 52. | Langlier Saturation Index |
| 53. | Ryznar Index |
| 54. | Aggressiveness / Corrosivity Index |
| 55. | Puckorius Scaling Index |
| 56. | Larson – Skold Index |
Bacteriological Analysis
| | |
| --- | --- |
| Ser | Name of Tests |
| 1. | Fecal Coliform (FC) /Total Coliform (TC) |
| 2. | E. Coli |
| 3. | Algae/ Chlorophyll_a |
CATS - EECE
Name of Tests
1. Power Transformer Test upto 12 MVA, 33/11 KV
2. Distribution Transformer, 50 KVA to 5 MVA, 11/0.415 KV
a. High voltage withstand test
b. No load loss and full load loss
c. Temperature rise test
d. Insulation and winding resistance test
e. Vector group test
f. Cable test (Domestic and power cable)
g. Insulation resistance test
h. DC resistance Test
i. High voltage withstand test
j. Copper purity test
k. Temperature rise test
3. Solar pump controller performance test
4. Domestic Electrical Appliance test (Numerous test)
Switch, Socket, MCB, MCCB performance test
5. LT Panel test-total test 05
6. Battery charging Discharging test
7. Motor Performance test
8. Generator performance test
9. Performance test for measuring instrument
CATS - EWCE
NAME OF THE LAB: ENVIRONMENTAL ENGINEERING
| | | |
| --- | --- | --- |
| Ser No | Equipment name | Test |
| 1 | Turbidity meter | Turbidity Test of Water |
| 2 | Electric conductivity meter | Conductivity, Salt, TDS, of Water |
| 3 | DO (Dissolve Oxygen) meter | DO, ORP, Test of Water |
| 4 | pH meter Digital | pH of Water Test |
| 5 | Spectrophotometer | Color, TSS, COD, Iron, Sulfate, Chloride, Nitrate, Nitrite, Chlorine Total, Chlorine free, Hardness, Cupper, Fluoride, Zinc, Sulfide, phosphate, Ammonia, TOC, etc. |
| 6 | COD Reactor/digester | COD Test of Water |
| 7 | Atomic absorption spectrophotometer (AA6800) | Aluminum, Arsenic, Gold, Boron, Barium, Calcium, Cadmium, cobalt, Chromium, Copper, Iron, Magnesium, Molybdenum, Sodium, Potassium, Nickel, Lead, Selenium, Titanium, Zinc, Vanadium etc. |
| 8 | Digital Colony counter | Count of Bacteria |
| 9 | Casella Sound Level meter | Measuring of Sound of Air |
| 10 | Ambient air quality Measuring equipment | PM10, PM2.5, Total Suspend particle (TSP),CO2,CO,NO,NO2,NOX,O2,O3,SO2,SOX |
NAME OF THE LAB: WATER RESOURCES ENGINEERING
| | | |
| --- | --- | --- |
| Ser | Equipment name | Test |
| 1. | Echotrac Sounders | Hydrographic Survey |
| 2. | OBS-3A | Hydrographic Survey |
| 3. | Acoustic Doppler Current Profiler (ADCP) | Hydrographic Survey |
| 4. | Multi-channel Measuring Instrument | Hydrographic Survey |
CATS - ME
Planned Project
| | |
| --- | --- |
| Ser | Name of Tests |
| 1. | Pump & Motor Test ( Ready for commencement) |
| 2. | Veh Performance Test |
| 3. | Engine Performance Test |
| 4. | Non Destructive Test |
CNG Test Project (2015-2016)
| | |
| --- | --- |
| Ser | Name of Tests |
| 1. | Cyl Test (Out Sources) |
| 2. | Engine Capacity Test |
| 3. | Sound Test |
| 4. | Emission Test |
| 5. | Physical Dimension & Appearance Test |
| 6. | Technical Fitness Certificate |
Veh Type Approval Test
| | |
| --- | --- |
| Ser | Name of Tests |
| 1. | Measure Physical Dimension |
| 2. | CG & Speed Test |
| 3. | Measure Curb Weight/Un-laden Weight |
| 4. | Measure Turning Radius |
| 5. | Brake Performance Test |
| 6. | Measure Fuel Consumption |
| 7. | Exhaust Emission Test |
| 8. | Sound Level Test etc |
Centrifugal & Submersible Pump & Motor Test
| | |
| --- | --- |
| Ser | Name of Tests |
| 1. | Flow rate of pump |
| 2. | Discharge amount of pump |
| 3. | Pump efficiency test |
| 4. | Motor performance test |
Pump & Motor Test
| | |
| --- | --- |
| Ser | Name of Tests |
| 1. | Measure of Pump Head |
| 2. | Flow rate of pump |
| 3. | Discharge amount of pump |
| 4. | Pump efficiency test |
| 5. | Motor load test |
| 6. | Motor performance test |
Veh Performance Test
| | |
| --- | --- |
| Ser | Name of Tests |
| 1. | Roller-Brake & Pedal Depressor Test for 2,3 & 4 Wheelers |
| 2. | Combine Emission Test (Petrol & Diesel) |
| 3. | Head Light Test, Concave Mirrors Tester & 2 X Turn Table |
| 4. | Shock Absorber Test |
| 5. | Side Slip Test |
| 6. | Test of 3D Wheel Alignment & Wheel Balancing for Car & Light Truck |
| 7. | Scan by Super Scanner |
| 8. | Axle Play Tester (Hydraulic) |